BOBBY
GOLDSBORO
MUSIC.com
The RIAA (Recording Industry Association of America) awarded Gold records
for sales of one million singles or one million dollars in sales of albums.
Gold videos were awarded for sales of 50,000 units.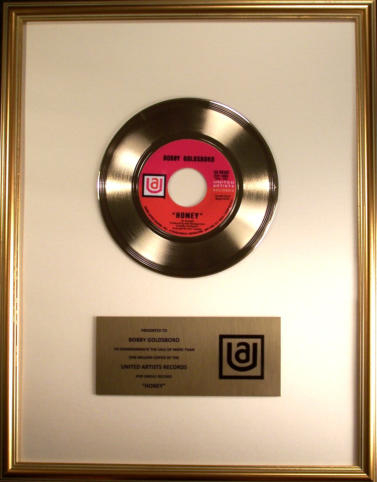 BOBBY GOLDSBORO'S GOLD SINGLES
See the Funny Little Clown
Little Things
It's Too Late
Honey
Watching Scotty Grow
BOBBY GOLDSBORO'S GOLD ALBUM
Honey
BOBBY GOLDSBORO'S GOLD VIDEO
Easter Egg Mornin'
Broadcast Music, Inc. (BMI), an organization that
distributes royalties to songwriters, recognized two
songs written by Bobby Goldsboro that were
broadcast on the radio over one million times:
"WITH PEN IN HAND"
"AUTUMN OF MY LIFE"
A compilation album featuring "With Pen in Hand" and other "million-airs" was released
in 1984 by CBS Records #SNGS-101 as "Radio's Million Performance Songs."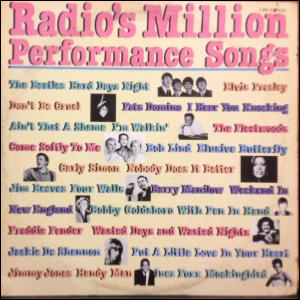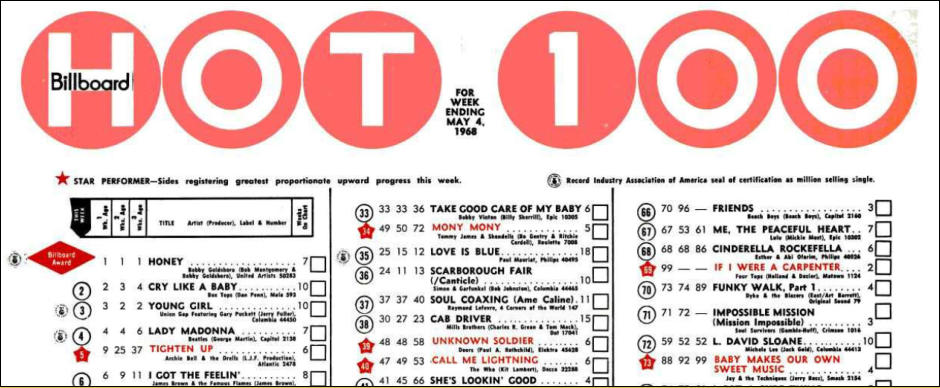 "HONEY" IS #1 SINGLE IN AMERICA
From May 4, 1968, issue of

Billboard

magazine, "Honey" by Bobby Goldsboro is #1 this week, 1 week ago, 2 weeks ago, 3 weeks
ago --- and it would be #1 the following week as well.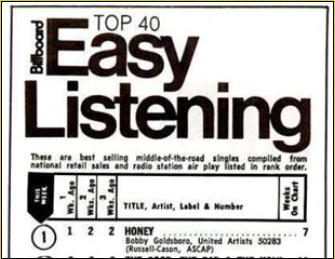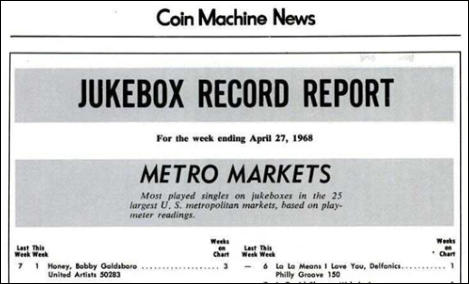 HONEY #1 IN SEVERAL DIFFERENT CATEGORIES
Bobby Goldsboro's "Honey" single reached #1 on

Billboard

's Easy Listening charts in the spring of 1968. The "Honey" single and
album each hit #1 Country.
The record was also the most played single on American jukeboxes during the time. It was #1 in major metropolitan markets, #1
West Coast region, #1 Mountain region, #1 Central region, #1 Northeast region and #1 Southeast region.
"Honey" also reached #1 in various foreign countries.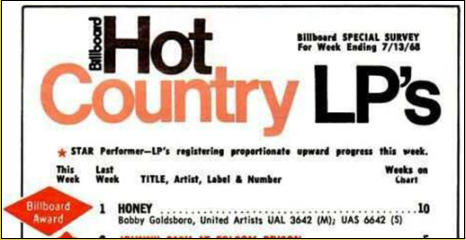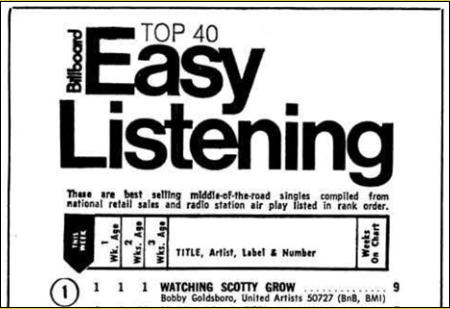 "WATCHING SCOTTY GROW"
#1 EASY LISTENING SINGLE FOR 6 WEEKS
#1 ADULT CONTEMPORARY HIT OF 1971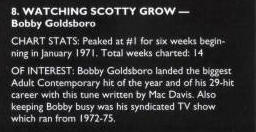 Additionally, some other Bobby Goldsboro singles were ranked #1 in various local markets and by individual radio stations.